After many months of waiting, WordPress 3.0 was finally released to the public a couple of days back. So, I decided to just jump in. This is what I faced when upgrading to WordPress 3.0.
As always, I just clicked on the Automatic Upgrade option in the WordPress Dashboard. The core upgrade went without a problem. No errors were registered. At first look, I'd assume that the upgrade was totally successful. However, when I tried to access the site after the upgrade, all I got was a blank screen. I cannot even get into the Dashboard.
Something is definitely not right. Googled around for a bit to see if anyone else have experienced the same result. No luck.
What do I do next? Hmmmmm…
Uploaded a fresh WordPress 3.0 into the server. Launched the WordPress 3.0 manual installation page. Used back my existing configuration settings.. and.. Voila! I can now get into the WordPress 3.0 Dashboard. Cool.
Apparently something broke during the upgrade. Not really sure what it was. Not going to waste my time to find out the cause of the problem. Probably some theme stuff not compatible with the new WordPress. Oh yes, I was using the Mimbo 3.0 theme.. or was I…
I'll be using the default Twenty Ten theme for now. I'm thinking of getting the new Socrates Theme.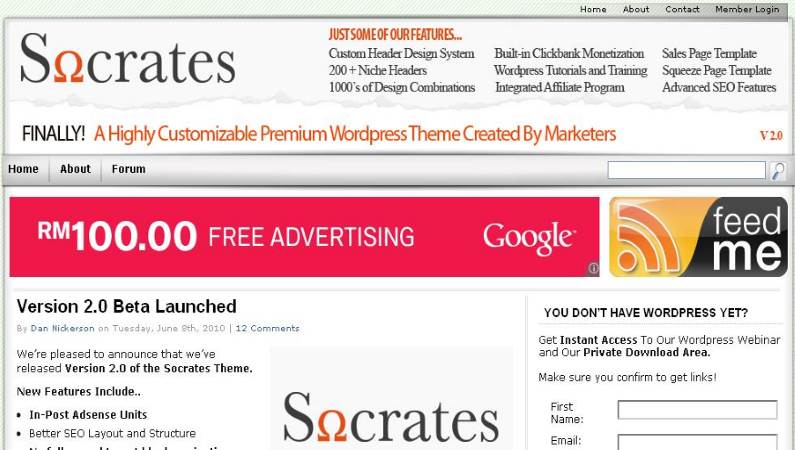 Have you checked out this brand new theme yet? If you have not, here are the few features of the theme:
Built in Header Generator
200+ Niche Header Designs
Upload Your Own Headers
Custom Navigation Bars
Optional Built In Adsense and Clickbank Ad Bar
Social Media Slider
Choose from Dozens of Backgrounds On The Fly
Custom Styling and Color Options
Affiliate Program Integration
Custom HTML Rotator
Multiple Sidebar Layouts
Internet Marketing and WordPress Training
Monetize With Any Affiliate Program or Network
The Socrates Theme sure looks dandy to me. Also love the fact that it's got an unlimited domain license to go with it.
So, have you upgraded your site to WordPress 3.0? Did you face any problems during the upgrade? If you have not, I would recommend that you do it first in a Test WordPress Environment.
Talk to me people…
Update (August 20, 2010): Apparently this is a known issue with WordPress 3.0. Themes and plugin incompatibility simply breaks it. So, if you are blogging on WordPress and plan to upgrade to 3.0, you might want to read this WordPress White Screen Of Death article.