Have you got WordPress Anti Spam installed on your blog? Yes, blogs are also the target of spams, not only emails. Blog spams come in the form of comments on your blogs.
Wait a minute.. Comment spams?
Yes, comments that do not add value to your blog entries. These are comments that people leave for the sake of getting a backlink to their website. These types of comments normally do not add any value what so ever to your blog entry.
Most of the time they are one liner comments such as the following:
I love this blog! more then I love my wife!
Now, can you tell me how the above comment adds value to my blog?
However, nowadays, there are many spams that is more than a one liner. I have to say that I admire these people. They are willing to spend the time to write up long irrelevant comments for the sake of getting a backlink to their site.
Take a look at the following:
Thank you for give very good knowledges. Your website is so cool I am impressed by the information that you have on this blog. It shows how well you understand this subject. Bookmarked this page, will come back for more. You, my friend, ROCK! I found just the information I already searched everywhere and just couldn't find. What a perfect site. Like this website your website is one of my new favs.I like this info presented and it has given me some sort of commitment to succeed for some reason, so thank you
The thing is, that long comment up there was posted to a blog post I wrote in October 2009.
That's many many moons ago. It's on a post titled – "Spurs, Canes, Fins and the Red Giants. They all went down". Do you see any relevance between my entry and the comment spam? I sure don't.
Here's another one. This time around, I think the software used had a bug or perhaps the user didn't know how to use the software.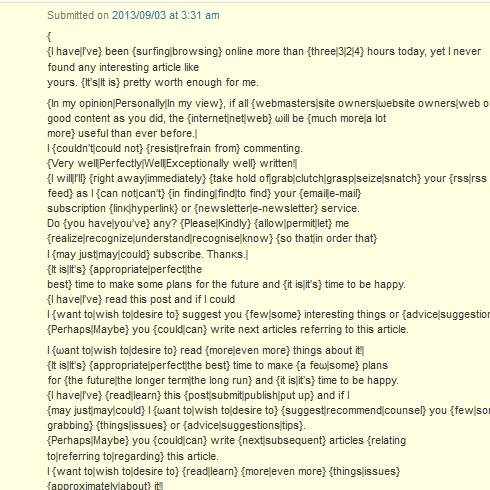 Okay enough of that. Allow me to ask you this once again. Do you have a spam filter protecting your blog from these spams? If you don't, I would like to ask a favor from you. Please go and install a spam filter on your blog. Go and do it now.
Don't think that the comment spam issue is not serious. Following is what I've discovered after just 10 days of experimentation.
At one time, on December 8th 2010, I cleared my comment spams. Can't remember how many there were in the Spam folder on that day. I also decided to monitor how many spams I was going to get after 10 days.
After just 10 days, I had 860 spams in the Spam folder of my blog. So, on average, I was getting like 86 spams per day. That's just about 3 plus spams per hour.
Not bad. I wonder how many of those are automated. I would say they are all automated since none of them seem to be relevant to the entry they were posted in. Thanks to both Spam filter plugins installed, I am not too worried about the spams. Both plugins are doing their job superbly.
Thanks to my spam filters, I don't have to spend any time at all removing these spams from my comments. Just imagine how long it would have taken me to remove the 860 spams manually.
I'm not sure about other blogging platform. However, WordPress comes preinstalled with a comment spam blocker. Thank you Matt for bundling in Akismet into the WordPress core. It is certainly one of the best WordPress Anti Spam plugin ever made for WordPress.
I've also got another comment spam plugin installed. It's called WP SpamFree (no longer supported, I now use WP-SpamShield – a fork of WP SpamFree) Since the day I've used both these plugins in my WordPress, I have yet to see a spam slipping through. They have worked fine so far.
Now, why don't you go and install on your blogs these two anti spam plugins. Free up some time and enjoy a good night's sleep. Don't wait until your blog is targeted by 800 plus spam comments. By then it would have been too late.
I would also like to know what other spam filters for WordPress you are using in your WordPress sites.
I do hope this entry have enlightened you somewhat to the importance of a spam filter plugin, especially if you use WordPress for your Business websites.
If you like this entry, don't forget to Click on the "Like" button and share it with your friends.